Painting tips | Granulation with watercolour | Back

Granulation with watercolour
Granulation with watercolour is a technique where you encourage clumps of pigment to settle into the rough texture of the paper, giving an interesting and easily achieved visual effect. Not to be overdone though!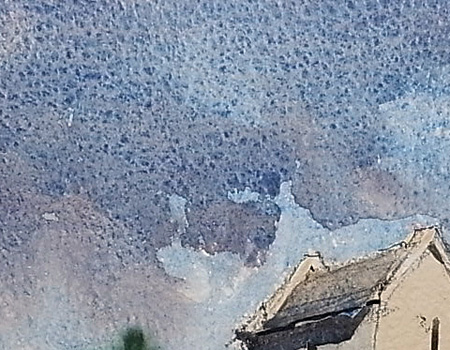 Granulation works well with rough watercolour paper, and with big watery foregrounds and skies.
Here is an example from a blown-up section of a watercolour painting.
To do this you need:
Rough paper
Lots of water
Watercolours that are pigment (i.e. particles) based (like a mix of ultramarine and a tiny bit of light red) rather than dye based - i.e soluble. like phthalo blue.
Mix up a very watery wash and lay it on your paper, then holding it horizontally, rock it back and forth to encourage the pigment to settle in the hollows of the paper. And, hey, this is the result you get. Mind you, you have to practice a bit to use it in a useful way in a painting. Try it for yourself
You can also see some of the effects of granulation in the third painting down on my
gallery of watercolours
, and in several of my watercolour
paintings of windmills
, in particular the paintings of St. Benet's and Bourn mills