Paintbox 3 - Essential oil painting techniques
Details: For someone starting to paint in oils, getting the hang of some essential techniques is so important. In this 30 minute video Noel Garner shows clearly, in close-up video detail, how these techniques are done and how they can be put to good use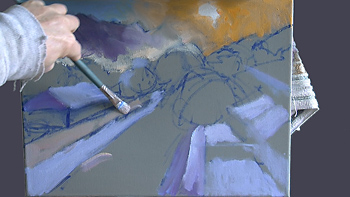 In another video, Noel suggests a list of essential equipment for starting oil painting. But the subject of this video is essential techniques. Oil painting can seem daunting - and diving straight in without an understanding of important techniques can lead to disapointment, and maybe even giving up! This must be avoided at all costs!!
So the idea here is not to dazzle you with all the amazing tricks with oil painting that can be acheived - rather to equip you with strong basic techniques that will serve you well for a long time to come.

Books are good, but what could be better than seeing live in video how these techniques are used?
Noel's chatty, direct style, with detailed close-up video clips will set you on the right path.
Here are some of the things you will enjoy in this video:

How to use brushes, rags and fingers to apply oil paint

How to apply thin paint

How to clean brushes as you paint

How to "scumble" and when to use this technique

How to paint "thick over thin."

How to mix paint on the palette and whether to use a brush or palette knife.

Use of different kinds and sizes of brushes

Producing hard and soft edges

Using a studio palette

"Alla prima" compared with the "layered" technique
The introductory price for this totally original video is £4.95 plus VAT about ($7.68 approx), and after purchase you will get immediate access to the video on your computer.
Here is a three minute excerpt from the video itself: