View Store | Paintbox 3 - Painting in oil towards the light - how to generate real impact in your painting | Back

Paintbox 3 - Painting in oil towards the light - how to generate real impact in your painting
Details: In this 45 minute video Noel Garner shows you, step by step, how to paint a landscape subject facing towards the light source, in this case towards the sun. Click on the link above to find out more.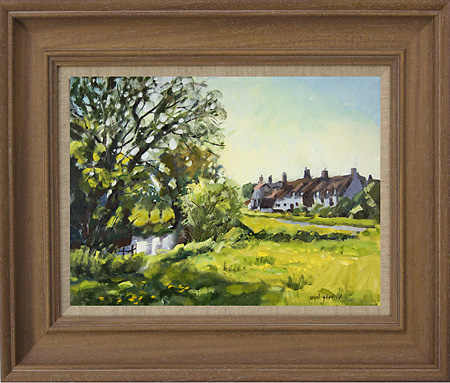 Painting landscapes facing towards the sun has some challenges, but has great rewards too. Contrast is high, shapes and shadows are strong and simple -
the result can be a powerful painting.
In this
45 minute video
, Noel shows you how he prepares to start this oil painting on location, and how he uses a photograph of the scene for later reference. Later on he brings you back into the studio to complete the painting, guiding you through each stage of the painting process.
Noel explains
three important stages
in his method of painting into the light:
Getting the broad shapes right and establishing the main dark and light areas of the painting.
Developing subtle patches of colour within the shadow, and then the light, areas.
Finally, in the third stage, he shows you how to add detail to complete the painting without over-doing it.
Noel's method is clear, logical and easy to repeat on other subjects.
The painting medium is oil on canvas and the video is offered in normal and high definition formats depending on your internet connection speed. We recommend the higher definition first - there is no additional cost; either or both formats are available to you for one price.
The introductory price for this totally original video is £4.95 plus VAT about ($8.00, July 2011), and after purchase you will get
immediate
access to the video on your computer.
Here is a five minute sample from the beginning of the video: