Latest News From Cambridge Art Academy | View News Archive | Back

Noel Garner and Roos Schuring on Dutch TV weather news
Somehow Roos and me painting on a beach found its way onto a Dutch TV weather news bulletin
Posted: Saturday 12th May 2012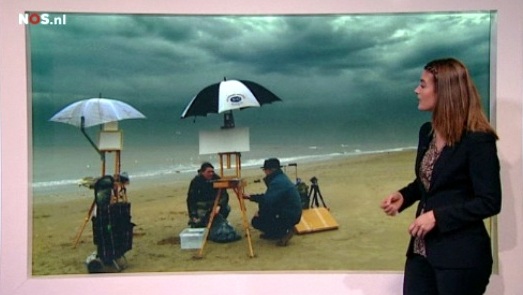 I didn't know who was out there photographing Roos Schuring and me painting on a Dutch beach last week, but somehow we managed to feature on a Dutch TV weather news bulletin. Fame!
Other News From Cambridge Art Academy
Ian Hamilton Finlay at Kettle's Yard, Cambridge
Exhibition of pastel paintings by Noel Garner - February 2014
Videos on how to paint snow scenes in oil now available.
Plein air painting day meeting with artists in Cambridge - February 2012
The world's best secret art galleries
New video on painting still life in oil from Cambridge Art Academy
Art News Calendar
Paintbox 3 The Complete Introductory course for painting in oils: 5 videos now available