Getting out there - online video | Painting winter birds on location at Titchwell RSPB bird reserve - Norfolk coast UK | Back

Painting winter birds on location at Titchwell RSPB bird reserve - Norfolk coast UK
Painting birds on location, especially in winter, requires a different approach. It's not about detail, but impression. On location at Titchwell RSPB on the Norfolk coast, Noel gives you some ideas on suitable painting materials and keeping warm!

Member Content: You Are Viewing A Preview Of This Content. Register Now For Full Free Access
On the practical side, if you're venturing out to paint birds in winter:
keep really warm. Bird watching and painting is a static affair, and it's easy to get cold. I was wearing three layers and a coat and hat and still felt cold in the wind
Head for the "hides", those small sheds you get on organized bird reserves. No heating of course but al least you are out of the wind
Take coffee, soup, food etc.
Fingerless gloves. You can't really draw or paint with ordinary gloves. Check this link for some ideas.
It's not going to be easy to carry and set up much equipment. Often with wildlife watching/painting you will have to carry your stuff a little way from where you've parked up anyway. So:
Take a backback or a trolley - my version combines both, and a seat. But a small art, photography, or birding backpack would do well.
Since drawing lines is so important when it comes to sketching birds, how about watercolour pencils? This is what I used on this occasion.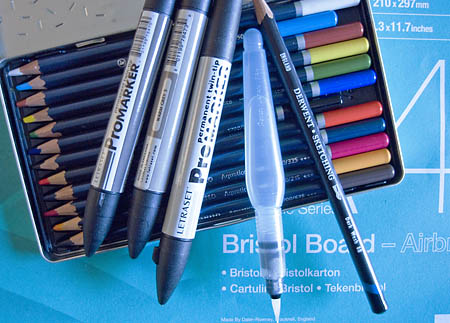 Here's the suggested list and a photograph:
A tin of water soluble watercolour pencil - I'm using Stabilo Aquatico here.
A pencil. Better that straight graphite is a watersoluble pencil such as Derwent Sketching Dark Wash. It has the advantage of being blendable with water if you want to spread some shading out. A 4B will be firm enough to drawe clear lines and soft enough to shade areas and blend with water.
A brush pen filled with clean water.
Several shades of grey spirit-based markers. I know this is a bit unusual, but see yesterday's blog for how effective and quick they can be. In contrast to the water-soluble materials, these markers will not smudge once dried, so you can draw on top of them easily. They will "bleed" through thin paper however. I'm using Letraset Promarkers.
Pad of paper. Cartrige is fine, but why not try Bristol Board? It's not a board but a thick, very smooth, paper. Watercolour pencils will blend very nicely on this smooth paper.
And finally, for members of Cambridge Art Academy, here's a short video of the outing to Titchwell with David Chandler:

more of this content available online now!

To read the full item and access all our valuable FREE content, please Sign Up As A Free Member. Its quick, easy and it really is all FREE. No credit card or payment needed!
Already a Member? Login As A Member and get instant access to this content now.