Getting out there - online video | Painting on location in oil with late afternoon sun - Clecy rail bridge in France | Back

Painting on location in oil with late afternoon sun - Clecy rail bridge in France
Late afternoon and the sun was behind me, brilliantly lighting up the rail bridge at Clecy. I painted in oil using the pochade box. This is on online video of the process and the finished result

Member Content: You Are Viewing A Preview Of This Content. Register Now For Full Free Access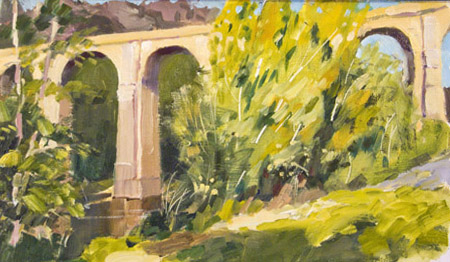 Whilst on holiday in France I started this small oil painting on location using my pochade box, and finished it two weeks later back home in the studio. This online video tells the story and talks about subjects like:
Painting in a long format
Painting with the sun behind you
Blocking in colour area instead of drawing an outline first
Getting curves right
Scrubbing out areas that aren't working first time
Reflections in water when the water itself had a colour cast
Check out the first part of the video below:

more of this content available online now!

To read the full item and access all our valuable FREE content, please Sign Up As A Free Member. Its quick, easy and it really is all FREE. No credit card or payment needed!
Already a Member? Login As A Member and get instant access to this content now.