Windmill paintings | Windmill paintings in oil and oil pastel | Back

Windmill paintings in oil and oil pastel
A further selection of my windmill paintings, these being in oils or oil pastel. They have all been painted on location over the past 25 years. The most recent one was finished yesterday - it's an ongoing prject
Barnack mill from "Hills and Holes" (the remains of the quarry from which the stone which built Peterborough Cathedral came). Oil pastel.
Maud Foster's Mill, Boston, Lincolnshire. (Yes, this IS the original Boston!!) Oil 6"x8"
Stanton windmill near Bury St. Edmunds. Oil 16"x12"
Swaffham Prior Windmill near Cambridge 8"x5" Oil.
Clippesby Mill, Acle, The Broads, Oil, 22"x15"
Great Thurlow windmill under repair. 15"x12" Oil
Interior of Wicken windmill - fully operational. Oil. 12"x12"
Near Saffron Walden - no further detai; perhaps someone can help me out. Oil. 18"x 12"
A watermill for a change. Priston, near Bath, Somerset. Oil 14"x14"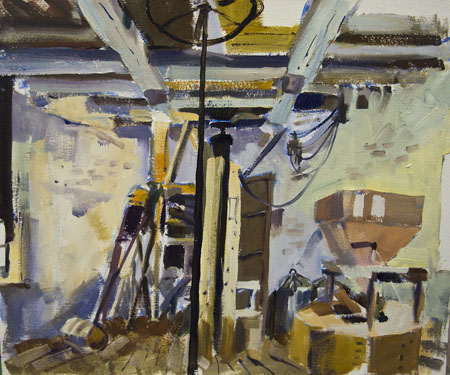 The Great Mill at Haddenham, Cambridgeshire. Three millstones on the first floor. In the process of restoration.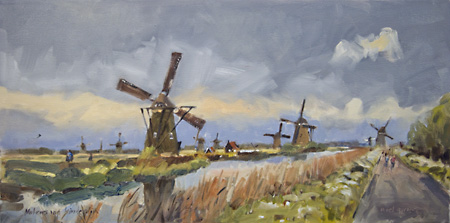 Kinderdijk windmills (pumps). 9 mills out of 15 are just visible in this oil painting done on the spot in Holland, about 20 miles East of Rotterdam. 12"x24" oil on canvas. May 2012.