A Conversation with... | Corry Kooy talks about her approach to pastel painting | Back

Corry Kooy talks about her approach to pastel painting
I recently had the privilege of spending a day with Corry Kooy, a Dutch painter who has a special gift for painting with pastels. This video summarises her approach and fundamental principles to this sometimes elusive medium.

Member Content: You Are Viewing A Preview Of This Content. Register Now For Full Free Access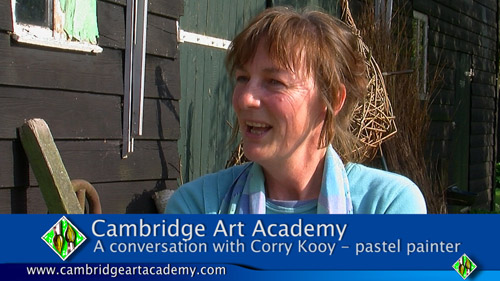 I was determined to find a way to learn something about pastel painting from Corry Kooy, a Dutch painter whose work I greatly admire. So I jumped at the chance to travel all the way from Cambridge UK to Schoonhoven, Holland to attend a day workshop of hers. It was a wonderful day and I have already changed some of ways I do pastels - I have halved the number of pastels I use, and I no longer do any drawing first.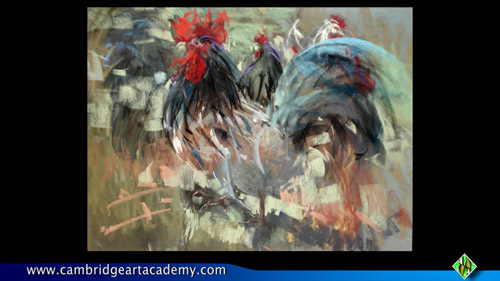 Surely pastels, above all other mediums is best suited to capturing colour and movement quickly. Just think of the Degas pastels done of ballet dancers and trapeze artists for example. She would shun th comparison I know, but just look at this pastel of a cock by Corry. Yes, all the essential elements are there, but it looks alive with movement. Fantastic!
But I'll let Corry speak for herself in the video:

more of this content available online now!

To read the full item and access all our valuable FREE content, please Sign Up As A Free Member. Its quick, easy and it really is all FREE. No credit card or payment needed!
Already a Member? Login As A Member and get instant access to this content now.