A Conversation with... | Artist David Curtis on using a pochade box to paint the local scene in Staithes | Back

Artist David Curtis on using a pochade box to paint the local scene in Staithes
I met David Curtis quite by coincidence when I chose the same spot on Staithes harbour wall to paint in oils using my pochade box. He was doing the same and kindly agreed to say a few words for the members of Cambridge Art Academy

Member Content: You Are Viewing A Preview Of This Content. Register Now For Full Free Access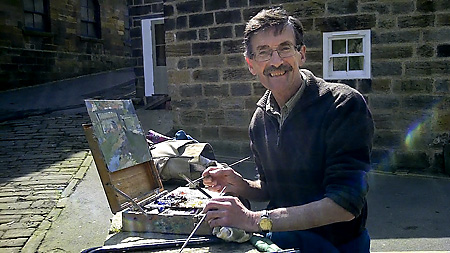 It was a pleasant and surprising coincidence that led me to end up painting beside David Curtis in Staithes, Yorkshire. We were both painting in oils using pochade boxes. I was just starting as he had almost finished, and he generously agreed to talk off the cuff to camera on the subject of painting the local scene - and Staithes is clearly a place he has loved for many years.
David's paintings are available in galleries in Staithes and Broadway to my knowledge and here is the link to his
website
.
The complete video conversation is available free in the members' section.

more of this content available online now!

To read the full item and access all our valuable FREE content, please Sign Up As A Free Member. Its quick, easy and it really is all FREE. No credit card or payment needed!
Already a Member? Login As A Member and get instant access to this content now.