Painting tips | Get rid of those small bits of pastels | Back

Get rid of those small bits of pastels
How easy it is to save all those little bits of pastel - how hard to throw them out
Do you recognise this situation? A bunch of small bits of pastels that you can't bear to throw out? Sometimes a small chunk of pastel breaks off the end of a stick you are using. You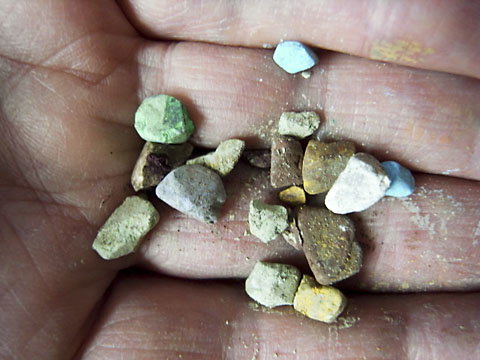 think to yourself how expensive good pastels are, and what an unnecessary waste - so you pop the fragment into the box. I do it a lot.
And its a waste of time! These little bits rattle around in your pastels box and get dirty so you can't see what colour they are. And they are too small to use anyway - I have to press them hard and hold on to them tightly - the result is always crude and uncontrolled strokes.
So do what I did with the bits in th photo - dropped them into the waste bin, and peeled the paper off a couple of new pastels. Ah, that's a much better idea.....