Painting tips | Easy way to paint two paintings at the same time on location | Back

Easy way to paint two paintings at the same time on location
Sometimes it's helpful to be able to paint two paintings at once when you are out on location. Here's how to do it, using oil paint and a pochade box
There a many reasons why you might want to paint two paintings at the same time out on location. For example:
Two painting subjects from the same spot are equally attractive to you
You haven't got the time to do two separate paintings
The lighting effect is not going to last and you know that it's not going to be there if you start another painting later
Two views are very different and you think it might be fun to be painting in a contrasting way on different subjects.
The list goes on. So how to get round this problem? I had this situation when painting plein air in London recently on the River Thames near Hampton Court Bridge. I looked around me at the water's edge and liked what I saw in both directions. But it had just stopped raining, the sun was breaking through and it wasn't going to last. (In fact I was rained off about 45 minutes later.)
So I drew a line across the 12"x12" board horizontally and painted in narrow landscape format one above the other. I spent about ten minutes on the composition and blocking in for the top half, then rotated my easel through 180 degrees to face the other way and do the same for the bottom half. Same again in each direction for a further 10 minutes.
Here's what it looked like before the rain returned: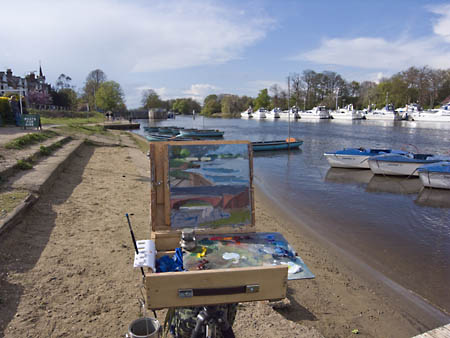 Had I done one painting after the other, I would have completed more detail on the first painting, but never had the opportunity to get down on board the main "feel" of the second viewpoint before it started to rain.
This is not the first time I have used this technique and I recommend it to you, particularly if you are painting on board, because later when each picture is finished and dried, you can simply cut the board in two.
Here is a close up of the two finished oil studies before I cut the board: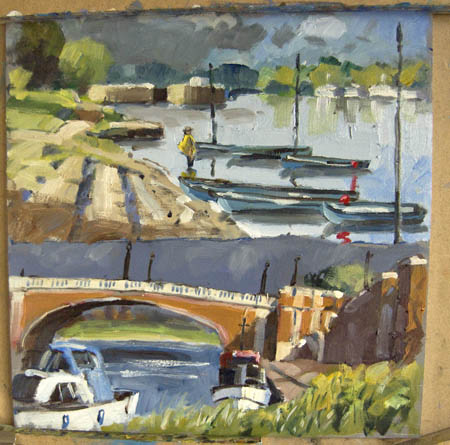 In these two blogs you can see the finished result after I had worked on them some more in the studio:
Plein air at Hampton Court Ferry
Plein Air at Hampton Court Bridge