Reviews | Review of Artisan water mixable oil paints | Back

Review of Artisan water mixable oil paints
Water mixable oil paints - what! It sounds like a contradiction in terms, but they exist and they work. In this review I look at the product made by Winsor and Newton called "Artisan" and have a go at using them on location. And the verdict? Read on...

Member Content: You Are Viewing A Preview Of This Content. Register Now For Full Free Access
"Water mixable oil paints" sounds a bit odd doesn't it?. Questions immediately spring to mind like:
Do they really work?
Even if they do, why would I want to try them?
What additional equipment would I need to purchase?
Will my paintings look like real oil paintings?
Is it real oil paint?
Is the "feel" of water-mixable oil paints the same as ordinary oil paint on the canvas?
Will it mix with standard oil paint?
If I'm going to use water in my oil painting, why don't I use acrylics instead since they have "body" and use water?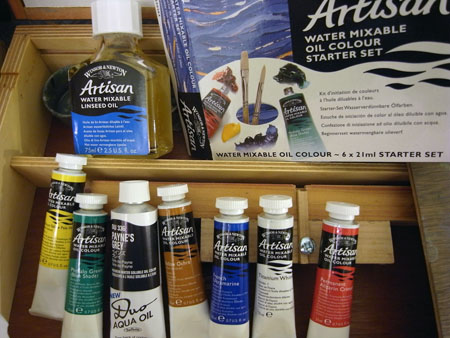 Many of these questions only apply if you already have experience of painting in oils, but I guess that's where most of you are coming from. Well, here are a few facts basesd on Winsor and Newton's fact sheets and my own observations:
Water mixable oil paints can be applied straight from the tube, but don't spread so far as standard oil paint.
It's real oil paint, but the binders have been modified chemically so they will mix (emulsify) with water.
They can be thinned with water in the same way as you might thin standard oil paint with thinners/mineral spirit/white spirit. i.e. in the early stages of a painting (like underpainting or drawing outlines) but NOT TOO MUCH. Put another way, don't treat them like you would a watercolour wash. The paint won't stick reliably to the painting surface.
As you work on the painting you can extend the paint to make it spread and flow more easily using a dedicated water-mixable medium, or water-mixable linseed oil for example. You don't HAVE to use the special product, but if you don't the paint behaves like standard oil paint. So this is another item to carry around.
You can use all your normal brushes, painting surfaces etc.
You can mix the water-mixable paint with standard oil paint if you like, but the more you add, the less it will be water-mixable. For example the paint won't properly wash out of your brushes with water alone.
Winsor and Newton are not the only manufacturer of water mixable paint. I have used a sample of Paynes Grey made by Holbein. Seems much the same to me.
To see the video
of how I got on using these paints on location, and my conclusions
please join the free membership
of Cambridge Art Academy. This, and many other free resources, will be available to you on the members-only tab.

more of this content available online now!

To read the full item and access all our valuable FREE content, please Sign Up As A Free Member. Its quick, easy and it really is all FREE. No credit card or payment needed!
Already a Member? Login As A Member and get instant access to this content now.