About This Site | How Cambridge Art Academy works | Back

How Cambridge Art Academy works
What is Cambridge Art Academy? How does it work? How will it benefit YOU? Here's how
Here's the story: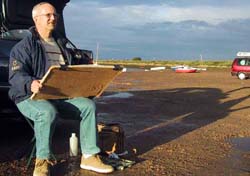 1
. The focus of Cambridge Art Academy is
on-line video
to help
you
- particularly if you are a beginner or wanting to improve your painting skills. Our first question is "If it can't be done with a video, why not?" (This post is an exception!). Yes, there
is
plenty of video available on Youtube, Vimeo etc. But the quality - both content and technical - is very variable, and with random content.
2.
Here
we concentrate on you
- not showing off how fast we can draw cartoons or portraits!
3.
Most of what is on the site is free. Why? Because Noel loves painting, has been painting for a long time, and likes to share his experience. So "free" is the best way to do this. If you would like to be a member of Cambridge Art Academy, simply click on this link to the
Free Membership page

.
4.
Some things are for purchase, and to browse this please click this link to the
Products
section. We'd love you to try out some of these products, but we are not going to pester you about it. We are proud of the work that has gone into making these video products special, but we believe they speak for themselves, and they offer terrific value. There's
one very important benefit
to point out. When you purchase a video product from Cambridge Art Academy,
you don't wait around waiting for something to arrive in the post.
Our streaming videos are available to you
straight away
on your own computer. They are high quality, and designed to work on computers that don't always have the fastest internet connection. There's a no quibble money-back guarantee, but we have found on the few occasions that customers have had a problem, it is usually quickly solved via our helpdesk.
5
. If you are a member we will let you know if there's something new or interesting on the site for you to look at.
6.
Noel's painting tuition is core to the site, but not the whole picture. Far from it. There are stories from a
picture framer
, a
gallery owner
, a
review of art books
, ideas from a
portrait painter
and much more.
So, enjoy Cambridge Art Academy. And don't forget - if you
become a member
(
free
) there is much more content for you to explore.