The Cambridge Art Academy Blog: Industrial building in Cambridge painted in oils on location | View All Blogs | Back
Industrial building in Cambridge painted in oils on location
Posted On: Wednesday 25th May 2011
Summary: This industrial building in the centre of Cambridge used to be a flour mill I believe. I painted this in oils on location in about an hour yesterday afternoon

Blog Tags: Oil painting Outdoor painting Painting in Cambridge Townscapes Windmills and mills Buildings Cambridge Art Academy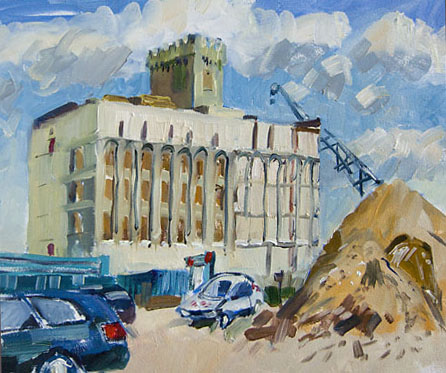 Having dropped off my wife at the rail station in Cambridge (she's off to the Chelsea flower show) I pulled into the "Triangle" redevelopment site next door where all that remains of the old buildings is this old flour mill, which will be converted to posh flats. I had my pochade box and folding stool with me so it only took a few moments to get painting in oils.
I love outdoor painting in any weather but yesterday afternoon was sunny and breezy. The old building looked positively friendly. Can a building be friendly? The security guard kindly let me in and sit in front of his cabin - there was no way he was going to let me wander around the site to get the best viewpoint, as I would have wished.
So he showed "his" artist off to all who came in and out of the site and proclaimed to the women that "he's going to do portraits tomorrow". Security guards like a little conversation - a lot of conversation in his case - so we chatted away about Cambridge and how it's changed, and his family and what he plans on doing when he retires. All while I painted. It was a distraction to be honest, but it was the price of being there at all.
It never ceases to amaze me the goodwill people have towards artists, and how much they will tell you about themselves just because you have your face turned towards a canvas. It's something I really enjoy.
The challenge in terms of technique was getting the right balance of hue and value between the sunny and shadow sides of the building, and making some sense of the foreground which in reality was totally obscured by parked vehicles
Blog Archive
View All Blogs