The Cambridge Art Academy Blog: Bargain oil painting boards - art equipment the economical way | View All Blogs | Back
Bargain oil painting boards - art equipment the economical way
Posted On: Friday 6th May 2011
Summary: A continuation of my occasional theme of how to get hold of art equipment at bargain prices.

Blog Tags: Art equipment Painting tips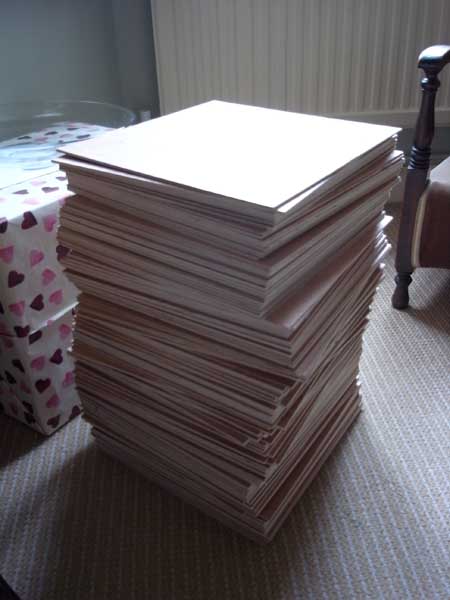 I was in at my local builder's merchants yesterday and I always look at their section where they are selling off off-cuts, bin ends etc. Hit the jackpot this time. A pile of 12"x12" thin plywood sheets. I got 150 sheets in all for £15 - about $10.
It's going to take me a while to paint them all with a couple of coats of gesso, but this means I have an unlimited supply of practice painting boards for the foreseeable future.
So pop down to your local builder's merchants and see what they have on offer. Don't ask them the price - tell them what you will pay. I offered £12 and settled on £15
Art equipment and painting boards, and canvasses in particular, are not particularly cheap so we have to take opportunities like this when they arise. I also regularly check the on-line art materials suppliers for offers they have on. I have just bought a load of half-price canvases on this basis, and by keeping my stock of canvases up, I'm not in a panic and can choose the right time to buy.
Blog Archive
View All Blogs