The Cambridge Art Academy Blog: Digital painting - an outdoor sketch of boats in Cambridge | View All Blogs | Back
Digital painting - an outdoor sketch of boats in Cambridge
Posted On: Tuesday 19th April 2011
Summary: I "painted" this using my PC notebook yesterday evening on the way back home from a meeting. I'm going to post a video of this on the members page, because it's interesting to see how easy and interesting it is to do digital painting using a software painting programme

Blog Tags: Landscape painting Boats Outdoor painting Painting in Cambridge Rowing Digital painting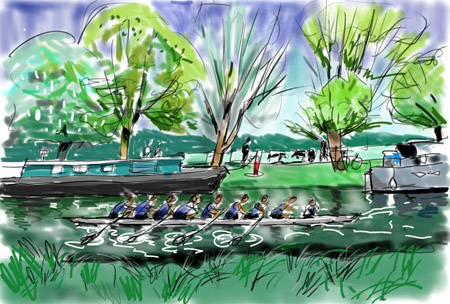 I admit this is way out of line!
Who is going to carry around a PC notebook computer and sketch outdoors with it? I ask you, is that
ridiculous
? Well - I think it's coming. The iPad and such ultra portable tablet devices are becoming cheaper and more available all the time. Sooner or later artists will catch on that this is not a gimmick.
I don't have an iPad (hint, hint wife, Christmas is only nine months away) but I do have my trusty old PC tablet notebook. This has a swivel screen and a stylus for drawing. So on my way home from a meeting yesterday evening, instead of pulling out my Moleskine, I took out the laptop since I had it with me. The light was fading so the rather poor screen was easy to see, and here is the result. I know if I practised more I could get a lot better, but actually I quite like the illustration-type look about this. What do you think?
I haven't printed this sketch at all by the way, just imported the image directly into the website off the computer after reducing it in size.
I filmed this and there is a short video below. The complete video article is in the members area if you're interested in seeing how I did this, and would like more information about software packages to choose from.
To sign up for free membership and view the complete video resource please
click here
Blog Archive
View All Blogs