The Cambridge Art Academy Blog: Vallon des Auffes, Marseilles in pastels | View All Blogs | Back
Vallon des Auffes, Marseilles in pastels
Posted On: Tuesday 25th November 2014
Summary: This is a small sketch in carre pastels and brush ink-pen of a small fishing village, Vallon des Auffes, on the outskirts of Marseilles. More in the same vein will follow in the next few days

Blog Tags: Boats Outdoor painting Plein air Painting in France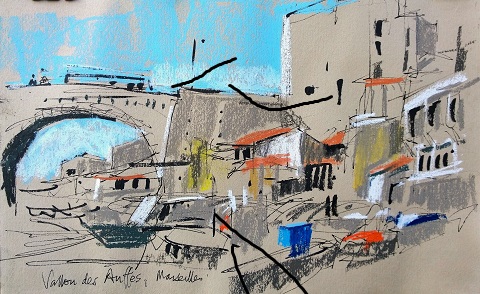 I'm just wrapping up a few days in Marseilles. Whilst it has been close to freezing back in the UK, here it is about 18C. Not bad for late November. All I've brought with me is a small pad of cut pastel paper sheets, about 4" x 6", a small tin of some hard pastels, a black fineliner and a black ink brushpen.
This viewpoint is from the terrace of a small restaurant in Vallon des Auffes, a small and picturesque fishing harbour just to the South of Marseilles. I guess in summer it is heaving with tourists. I did this in about 20 minutes while we waited for food to arrive. I think is shows well how economical it can be to use pastels as a sketching medium, because the colour of the paper becomes a natural mid-to-light tone. Please try and ignore the big black lines! Somehow these appeared when I was reducing the size of the image for uploading. I can do this sort of thing rather better when I'm not using a laptop.
After four days of sunny weather it has now turned to rain - but I'm not complaining - we fly back to the UK in a few hours time..
More sketches in pastels to follow when I get back.
Blog Archive
View All Blogs