The Cambridge Art Academy Blog: Coming out of Parliament Square, TT races 2014 - ink sketch | View All Blogs | Back
Coming out of Parliament Square, TT races 2014 - ink sketch
Posted On: Friday 6th June 2014
Summary: This is the first of three sketches at the TT motorcycle races on the Isle of Man in 2014. This one in pen and crayon

Blog Tags: Sketching Plein air Townscapes Simple art Pen and ink How to sketch Street scene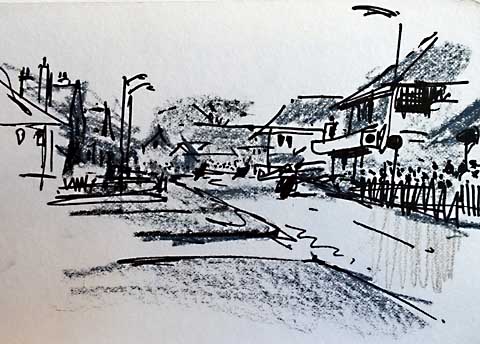 This is the first of three sketches done last week at the Isle of Man TT motorcycle races. This was not a painting trip - it was a few days of fun with my sons on our bikes. But, as always, a small sketchbook is always tucked away in a pocket or - as in this case - a pannier.
Sketched first with water soluble neocolour crayon, I then went on top with a thin felt-tipped pen.
The view is looking back at the exit from Ramsey's Parliament Square where the riders accelerate up the slight incline to the next bend. About 90mph roughly.
Blog Archive
View All Blogs