The Cambridge Art Academy Blog: Fishing boats at West Mersea in pen and neopastels | View All Blogs | Back
Fishing boats at West Mersea in pen and neopastels
Posted On: Sunday 25th May 2014
Summary: Continuing my series of sketches at West Mersea in the marshes of south east Enlgland, this sketch of fishing boats is in pen and neopastels

Blog Tags: Boats Sketching Outdoor painting Plein air Reflections in water Painting rivers Pen and ink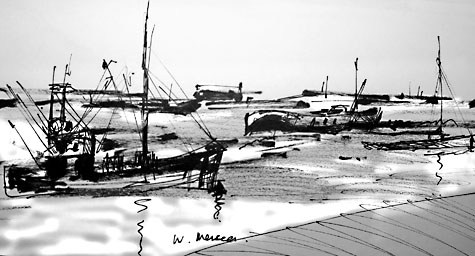 If you look up Colchester UK in Google maps you will see this extensive estuarine area of creeks and small harbours just to the East and South East. It's a fascinating area, artistically made famous by artists like Rowland Hilder, who had a small sailing boat from which he used to paint in this area.
Here the view is all quiet and sunny at low tide, but the day before at high spring tide the water was lapping up to the road and rain was sweeping in from the sea.
I used a small sketch book, an ink pen, grey neopastel, brush pen - and Photoshop after I had photographed it. And why not?
Blog Archive
View All Blogs