The Cambridge Art Academy Blog: Successful charity auction in Oxford | View All Blogs | Back
Successful charity auction in Oxford
Posted On: Sunday 2nd March 2014
Summary: Two of Noel Garner's paintings sold at charity auction.

Blog Tags: Oil painting Oil pastels Reflections in water People in paintings Quick painting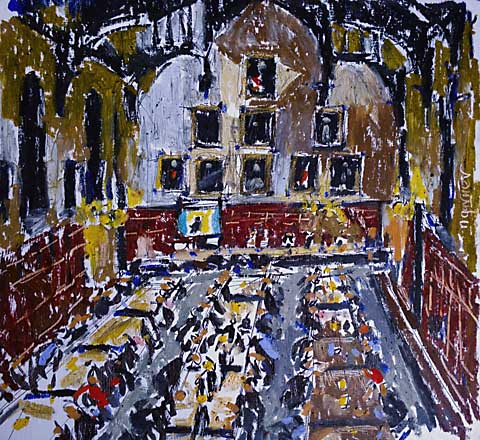 Last night two of my paintings were sold at a charity auction in aid of
Medic Assist International
They were sold without reserve so it was a bit risky - what if nobody wanted them? How embarrassing that would be. In the events one raised £340 and the other £130.
The one that sold for £130 (10"x10" oil pastel on board) was interesting because after the meal and while everyone was having coffee and the auction was getting underway, I went up into the gallery and painted the scene in oil pastels in about 20 minutes. This was tacked on at the end of the charity and was sold. What generosity on the part of many guests! I believe over £7000 was raised during the evening for the charity, so if was a privilege to play a small part. I hope the quality of the photo is reasonable - the only chance I had to photograph it was at the end before the purchaser (on the right) took it away with him.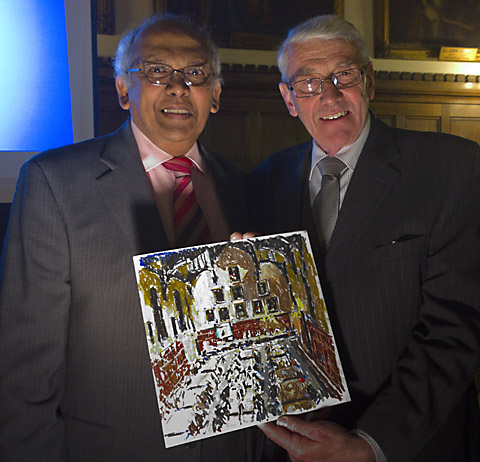 This is the interior of Magdalene College, Oxford University by the way.
I'll post an image of the other painting next time.
Blog Archive
View All Blogs