The Cambridge Art Academy Blog: Dutch landscape in oils - in the style of Roos Schuring | View All Blogs | Back
Dutch landscape in oils - in the style of Roos Schuring
Posted On: Sunday 5th January 2014
Summary: This is small plein air oil sketch of a Dutch landscape

Blog Tags: Landscape painting Oil painting Pochade painting Plein air Reflections in water Painting rivers Painting water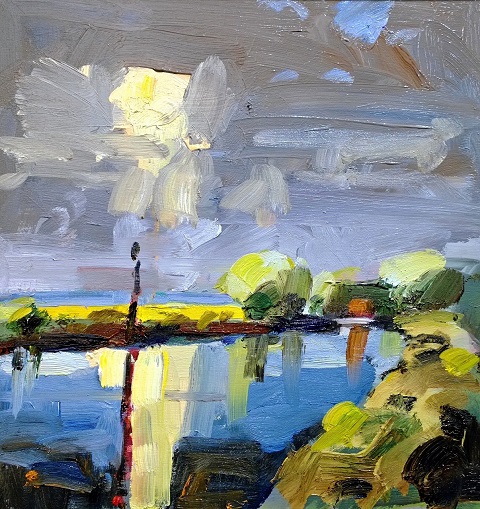 This small oil sketch was started plein air 18 months ago somewhere in Holland - so the best I can describe it as is "Dutch landscape."
Just in case Roos should see this (unlikely I know) I should explain I had the pleasure of painting on the beach with her on this trip to the Netherlands, and this is my very poor "hommage" to her fluent and impeccable judgement of value and hue. Head over
here
if you would like to see the real thing!
I finished this off - if this can be called "finished" in any sense, in the studio this evening as a break from my usual pastels. I've got a sort of "block" at the moment, so hopefully a switch of medium for an hour will change things.
Blog Archive
View All Blogs