The Cambridge Art Academy Blog: St Mary's Buildings, Bath, painted on location in pastels | View All Blogs | Back
St Mary's Buildings, Bath, painted on location in pastels
Posted On: Monday 30th December 2013
Summary: A painting in soft pastels of St. Mary's Buildings - a hidden gem in Bath, UK

Blog Tags: Outdoor painting Pastels painting Townscapes Buildings Street scene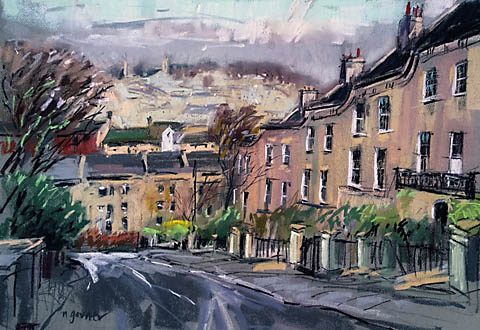 In my last
post
I showed how far I got on this pastels painting of St. Mary's Buildings, Bath, while I was on location the day before yestersday. Well, I've finished it in the studio and dug out from my files a newspaper clipping of my orginal watercolour of the same scene that I painted - now I check the date - 30 years ago!!!!
I'm really rather pleased how from memory I positioned myself in the same place almost exactly - maybe a few feet further to the left. And I've added a bit more on the left hand margin - and also made more of the background hillside looking towards Lansdown. I don't have the original watercolour painting - it was sold at the Bath Society of Artists 79th Annual exhibition all those years ago. However, this pastel is available for sale if it takes your fancy - just e-mail me at noelgarner@gmail.com. It's unframed, on pastel paper using Sennelier and Schminke soft pastels. Dimensions 63x43cm (25"x17")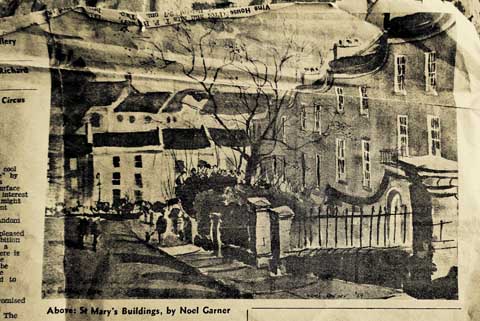 My treatment of the subject is basically the same - free, impressionistic, trying to capture the mood of the moment. But is it better? Well, yes, I think so. For a start off I was new to painting back then and only knew how to use watercolours. And my technique then was a bit forced I suppose. I can see hints in there of some the watercolour artists I was learning from at the time - Rowland Hilder, Jack Merriott and Fletcher-Watson. Pastels are so immediate - in my view more so than any other medium, especially if you love plein air painting as I do.
Blog Archive
View All Blogs