The Cambridge Art Academy Blog: Polkerris harbour Cornwall sketched in soft pastels | View All Blogs | Back
Polkerris harbour Cornwall sketched in soft pastels
Posted On: Friday 29th November 2013
Summary: A late summer sketch done on location in pastels at Polkerris harbour in Cornwall

Blog Tags: Landscape painting Boats Sketching Outdoor painting Pastels painting Composition Painting water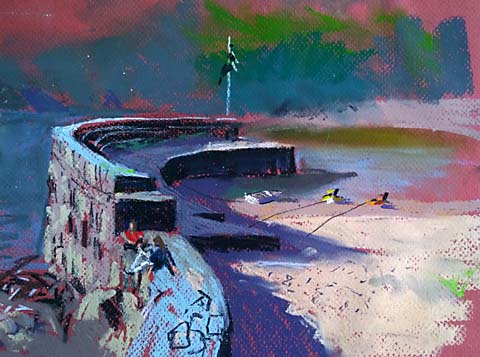 I go to Cornwall to visit friends every year, and every time there is some new beach or harbour to sketch. Polkerris is no exeption, and I perched my plein air pastel kit next to me on a rock overlooking the breakwater. to sketch in soft pastels. My wife was in the foreground talking to our friend Sarah, and they added just that little bit of foreground interest I was looking for.
More than anything though, it was the sinuous shape of the breakwater and the unusual colouring that made this interesting.
9"x12" on textured pastel paper.
Blog Archive
View All Blogs