The Cambridge Art Academy Blog: Summer tour painting 17 - Shropshire landscape, in pastels | View All Blogs | Back
Summer tour painting 17 - Shropshire landscape, in pastels
Posted On: Thursday 10th October 2013
Summary: Continuing my journey through England, Scotland and Northern Ireland, this painting shows a typical rolling Shropshire landscape

Blog Tags: Landscape painting Outdoor painting Pastels painting Painting trees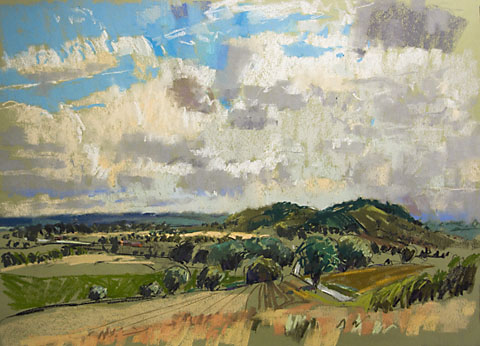 Ludlow, Church Stretton, Welshpool, Bewdley, Clows Top, Clee Hill, Bridgenorth, Wyre Forest - this is the landscape of my childhood. When petrol was cheap, my dad would drive us out on a Sunday afternoon from Birmingham to this area.
So this scene means quite a lot to me. We were now towards the end of a day that started in the Llanberis mountains in Wales, and would end in the evening in Bewdley which is not far from the western fringe of the Birmingham conurbation.
I started this on location using a large sheet of smooth pastel paper, completing most of the landscape part but only a few touches for the sky. I finished the sky back in the studio using a reference photograph, and did very little on the foreground.
The next day was in Bewdley.
Blog Archive
View All Blogs