The Cambridge Art Academy Blog: Summer tour painting 14 - Spelga dam, mountains of Mourne | View All Blogs | Back
Summer tour painting 14 - Spelga dam, mountains of Mourne
Posted On: Sunday 29th September 2013
Summary: A pastel sketch done on location in the mountains of Mourne, Northern Ireland, and worked up into a finished painting in the studio

Blog Tags: Watercolor Sketching Plein air Painting water Painting mountains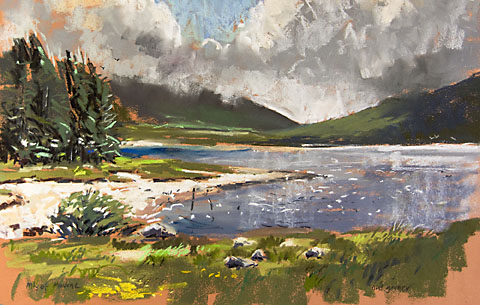 Now we were heading over to the East coast of Northern Ireland and cutting across the mountains of Mourne, which seem more remote and higher than they really are. Still, a very lovely area. On a sunny, windy day, higher up in the hills the clouds were spilling over the mountain tops.
When there is no wind - or little - it's easy enough to represent reflections in the water. However, even if - like here - there is a choppy breeze breaking up the water surface, there is still some reflections of the clouds. So what I did here was do the rough surface, fix it lightly and then drag down vertically very gently in white over the surface. Had I tried to blend it, the roughness of the water surface would have been lost.
It may be difficult to see on this small image (I always try and use small pictures so they will load up quickly on your browser), but there are several groups of birds in the painting, Something small and alive, not a feature, can bring a painting to life.
Blog Archive
View All Blogs