The Cambridge Art Academy Blog: Summer tour sketch 13 - Derry city walls | View All Blogs | Back
Summer tour sketch 13 - Derry city walls
Posted On: Friday 27th September 2013
Summary: A sketch of Derry city walls in pen and neopastel

Blog Tags: Sketching Townscapes Buildings People in paintings Pen and ink Street scene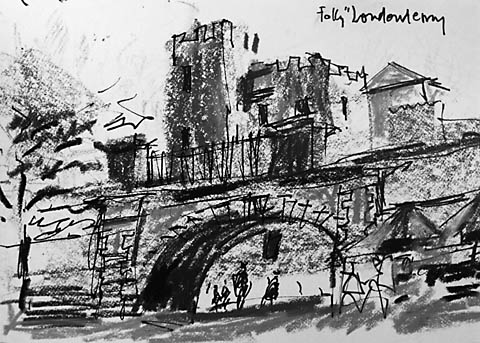 Derry or Londonderry? The locals are more likely to call it Derry. Certainly this is a place where Republican sentiments still simmer. Walk along the top of the wall to the right and within 5 minutes you are overlooking Bogside. As we looked across the valley, a fire was lit, and a fire engine arrived. Protest is not far away.
In contract to all that, the heart of the city is historic and fascination, with a perimeter wall that rivals Dubrovnik (OK, without the views)
This is a small sketch done on the spot in ink and 2 monochrome neospastels.
Blog Archive
View All Blogs