The Cambridge Art Academy Blog: Cricket match painted in pastels | View All Blogs | Back
Cricket match painted in pastels
Posted On: Saturday 3rd August 2013
Summary: A larger pastel painted plein air at a cricket match in the village of Rushton, England

Blog Tags: Landscape painting Plein air Pastels painting People People in paintings
A short break from reporting on my painting tour. because today I was painting in pastels in the village of Rushton where our family was attending a birthday celebration.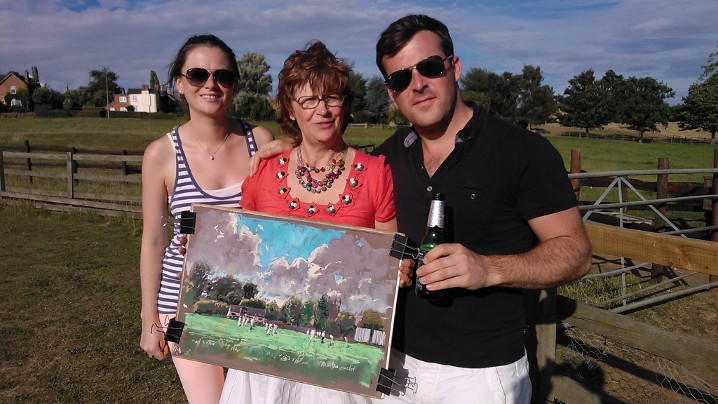 Late afternoon I walked down to the village green where there was that quintessentially English sport in progress - cricket. And since Pieterson would have been at the crease in the Ashes test match against Australia at that very moment, is seemed an auspicious moment to get the pastels out.
The boundary ran right up to the fence at this point so in fact I sat down on the pitch on my little stool to paint - but nobody seemed to mind. After about an hour, when I was nearly finished, who should appear but my wife, son and his girlfriend. David had a beer for me which showed a fine sense of what matters most for a hardworking plein air painter.
After packing my pastels, the cricketers had gone in for tea, so while the girls went back to the party, David and I wandered past the club house with him sort of displaying the painting as we wandered slowly by. He managed to sell the pastel to one of the ladies of the club for me which was nice, and we also walked back to the party. However, as you can see I photographed the painting before letting it go.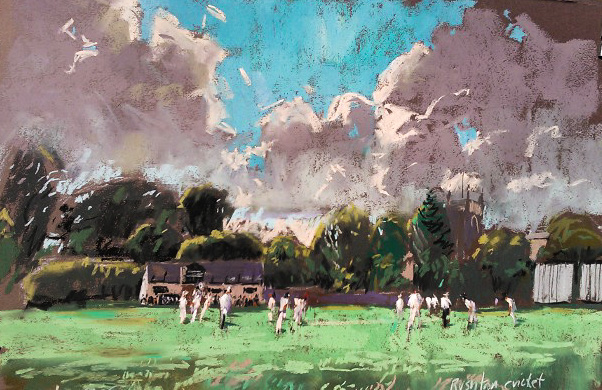 Blog Archive
View All Blogs