The Cambridge Art Academy Blog: Summer tour sketch 1 - Great Langdale, Lake District | View All Blogs | Back
Summer tour sketch 1 - Great Langdale, Lake District
Posted On: Thursday 1st August 2013
Summary: The first of a series of plein air sketches and paintings around the UK - this one in the remote valley of Great Langdale in the Lake District of the UK

Blog Tags: Landscape painting Sketching Plein air Simple art How to sketch Painting mountains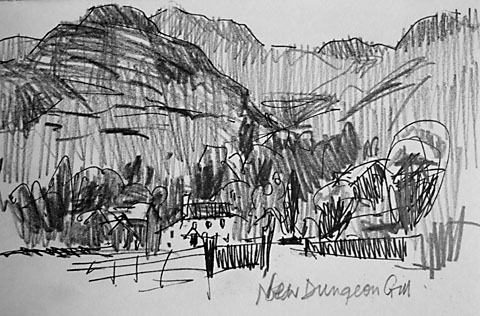 This is the first blog entry from a recent painting and sketching tour of Northern England, Southern Scotland, Northern Ireland and the West Midlands. All in the UK.
The first point of call was the Lake District in the North of England - just about the most beautiful landscape and mountains that England has to offer. What a shame that so many visitors to the UK never get further North than Watford gap. Anyway...
... this sketch was late in the evening in pencil using my Moleskine sketchbook, with New Dungeion Ghyll hotel in the mid-ground and Harrison Stickle in the background. A pale moon was just appearing over the hill tops behind me.
In a two week period it did not rain - it was wall-to-wall sunshine for two weeks, and this will be reflected in a series of posts I'll make in the following days. I'll also post a map of the route I covered.
Blog Archive
View All Blogs