The Cambridge Art Academy Blog: Steam winch sketch in hard pastels | View All Blogs | Back
Steam winch sketch in hard pastels
Posted On: Thursday 13th June 2013
Summary: Ths is a pastel sketch done on location, standing up to paint with my pad resting on a fence

Blog Tags: Sketching Outdoor painting Painting in Cambridge Pastels painting Buildings Industrial buildings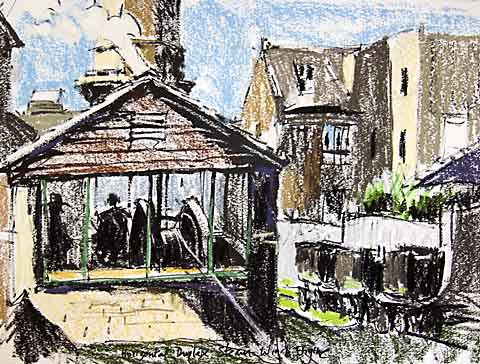 There was a sort of industrial grittiness about these old steam engines chugging away that suited the rough paper I was usng here.
The fixed steam winch was hauling a row of coal trucks up and down a short length of railway.
I don't think I have adequately captured or expressed the mood of the scene to be honest. Maybe it required a much more linear approach; maybe an expressive, steamy monochrome study.
Blog Archive
View All Blogs