The Cambridge Art Academy Blog: Norwich - Pulls Ferry painted in pastels | View All Blogs | Back
Norwich - Pulls Ferry painted in pastels
Posted On: Sunday 2nd June 2013
Summary: A small sketch in pastels done on the spot at Pulls Ferry in Norwich

Blog Tags: Plein air Pastels painting Townscapes Buildings Reflections in water Painting rivers Painting trees People in paintings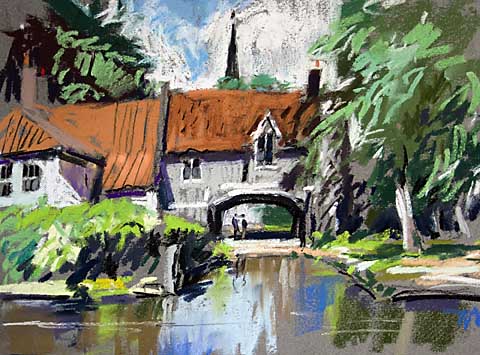 Pulls Ferry is the place in Norwich where the stone that was used to build the cathedral was brought up river from France. There used to be a canal running under the building to the site of the cathedral.
People walked along the path behind the foreground building from time to time and I used them to get the correct scale when I invented two people talking to each other in the shadow of the archway.
The technique of using light pastels over darker ones is very apprarent here on the right hand side where the pale sunlit foliage overlays the darker shadows of the interior of the trees. In contrast, on the left I defined the lines of roof tiles by drawing with hard black pastel over the generally lighter sienna values of the rooves.
Although this looks spontaneous, back in the studio I was careful with finishing details - especially the pale horizontal ripples in the foreground water which define the surface.
8"x12"
Blog Archive
View All Blogs