The Cambridge Art Academy Blog: Norwich from Moushold Heath painted in pastels | View All Blogs | Back
Norwich from Moushold Heath painted in pastels
Posted On: Saturday 1st June 2013
Summary: This is a well known viewpoint from which you can get a panoramic view of Norwich centre, and I sketched it in pastels

Blog Tags: Landscape painting Plein air Pastels painting Painting in the rain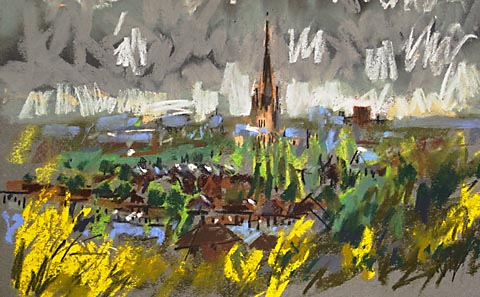 Not being a local Norwich person, it took me a while to find this viewpoint. In the back of my mind I was sure there is a well known painting from Mousehold Heath by the Norwich School 18th century watercolourist John Thirtle.
Well, I found it - almost. When I got home and compared his view with where I was it didn't quite match. So next time I'm there I'm going to find the exact spot - if they haven't built over it!
It wa so windy I literally had to hold my easel with one hand. It also hailed, but not for long, and I was able to pick the pieces of hail out of my pastels box before they melted.
8"x12" on pastel paper.
Blog Archive
View All Blogs