The Cambridge Art Academy Blog: Rome - evening pastel painting from the top of Via Merulana | View All Blogs | Back
Rome - evening pastel painting from the top of Via Merulana
Posted On: Thursday 30th May 2013
Summary: Very close to the Cathedral atop the Lateran hill in Rome, this evening pastel looks down via Merulana

Blog Tags: Plein air Pastels painting Townscapes Nocturne painting Painting trees People in paintings Street scene Painting in Italy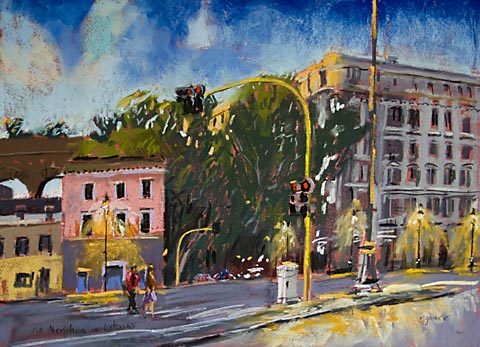 I forgot about this one:
I started painting this pastel as the light was fading and already the last of the sun was just catching the tops of the trees and buildings. This is an interesting area. Behind me was where Constantine built his first Christian church - off centre where it would not offend the traditional worship of the Gods. As Christianity became more mainstream, he build churches in the centre of the city.
From this point of view, massive lime trees funnel you down via Merulana which dives down hill before rising again a mile further on. The dark shadows suck you in. This was the only large pastel I got to do on this trip.
As usual I managed to find the best art shop in town called Bordi (the next day while walking along via Merulana. The owner (Claudio) makes his own pastels! What about that. Unfortunately he only had one colour available - a bright red, and of course I bought one. Nice texture and large size. You can see my open box of pastels on the counter on the right.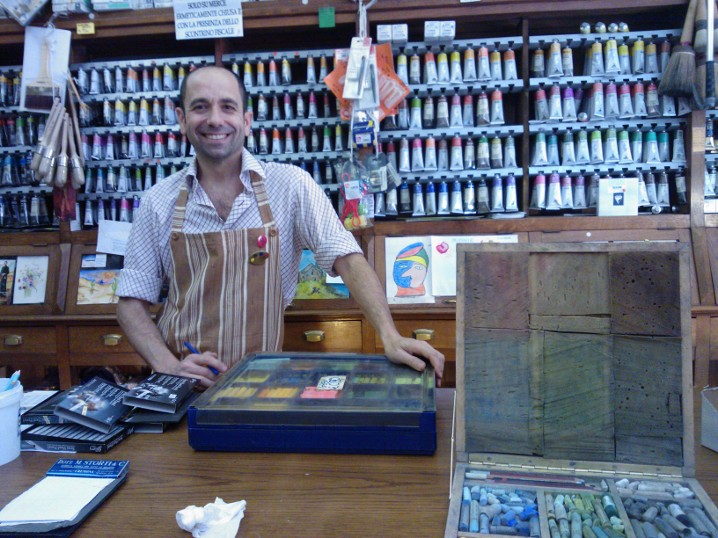 Blog Archive
View All Blogs