The Cambridge Art Academy Blog: Rome - Porta del Popolo | View All Blogs | Back
Rome - Porta del Popolo
Posted On: Wednesday 29th May 2013
Summary: The final pastels sketch from Noel Garner's recent painting visit to Rome, in the Piazza del Popolo

Blog Tags: Outdoor painting Plein air Pastels painting Townscapes People Buildings People in paintings Street scene Painting in Italy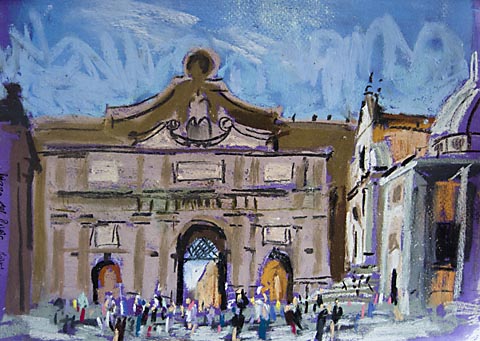 I think this was the least successful sketch in pastels I did in Rome on this trip. I was sitting on the steps in the middle of the Piazza which was thronged by people and families and kids. One little boy insisted on doing his own version of rock climbing over the large sculpture next to me, and I have to say it put me off - particularly since his adventure involved flicking water out the fountain, which every now and again landed on my sketch. I should have stopped then and there, but it had rained all day up until this point, and I was determined to get the pastels out while I could.
The overall effect is a bit like a stage set. Perhaps the purple paper had something to do with it.
Tomorrow it's back in the UK - a view of Norwich prison in fact....
Blog Archive
View All Blogs