The Cambridge Art Academy Blog: Brickmaking near Bagram Afghanistan - oil painting on canvas | View All Blogs | Back
Brickmaking near Bagram Afghanistan - oil painting on canvas
Posted On: Wednesday 6th April 2011
Summary: This is another oil painting for my forthcoming exhibition at the Old FireEnginehouse gallery in Ely. Not quite finished (you have to come, to see the final version!)yet but it's pretty much there. It's a large oil painting on canvas, 2'x3' and is located on the road north of Kabul on the way to Bagram

Blog Tags: Landscape painting Oil painting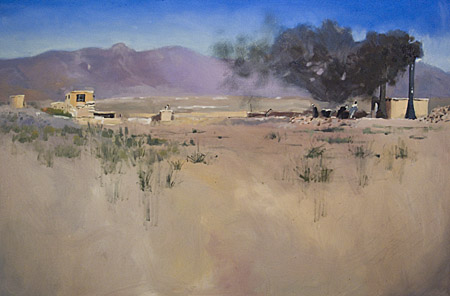 Another painting for the Ely exhibition " Views of England and Afghanistan". Since brickmaking switched from charcoal to using coal, they have been banned from the city itself. Judging from the pall of smoke this is quite understandable - you can see the plume from miles away. This one is on the road from Kabul to Bagram.
We passed this one the road out towards Bagram. I took a reference photograph and reminded myself we must stop and get a closer look , which we did on the way back a couple of days later. It was good to get out and walk around and soak in the scene, but security is not great in this area, and there had been security warnings that day for that area as well, so we did not linger too long. In fact there was no smoke billowing out of the chimneys, so it goes to prove - get a photograph while you can - you can never be sure that the situation will stay the same.
By the way, the kilns are underground which is why there is very little to see at surface level.
Blog Archive
View All Blogs