The Cambridge Art Academy Blog: The view from Castle Hill, Breamore, New Forest, sketched in pastels | View All Blogs | Back
The view from Castle Hill, Breamore, New Forest, sketched in pastels
Posted On: Saturday 13th April 2013
Summary: This is a view over the river Avon at Castle Hill near Breamore in the New Forest, UK. Sketched quickly using hard pastels

Blog Tags: Landscape painting Sketching Outdoor painting Pastels painting Painting trees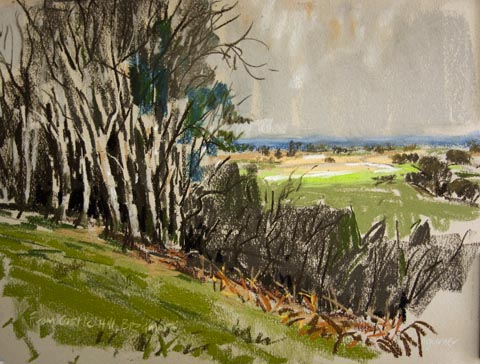 I was out for a walk with the family to this viewpoint from Castle Hill, Breamore, New Forest. I try and carry at least some small sketching equipment with me if at all possible, and on this occasion my shoulder bag containedt:
Small tin of carre (hard) pastels
Several pastel pencils including black
A very small spray bottle of fixer (I pour it in from a bigger bottle)
An A4 pastel paper sketch pad
Binoculars (the most interesting birds allways appear when you have forgotten them)
Damp facecloth to clean my hands (I never forget this one if I'm using pastels)
We paused for breath at this viewpoint, and my companions quickly got bored of waiting for me and announced they would see me back at the cottage. This gave me the perfect excuse to finish this sketch and dive into the woods. Heard a woodpecker drumming and got perfect view of a Nuthatch.
A bit of everything. Perfect!
Blog Archive
View All Blogs