The Cambridge Art Academy Blog: The Old Millpond at Breamore painted in pastels | View All Blogs | Back
The Old Millpond at Breamore painted in pastels
Posted On: Wednesday 10th April 2013
Summary: The Mill at Breamore bridge over the Hampshire River Avon has an old millpond which has now largely silted up. This is a plein air pastel painting overlooking the area

Blog Tags: Landscape painting Plein air Pastels painting Windmills and mills Buildings Painting rivers Painting water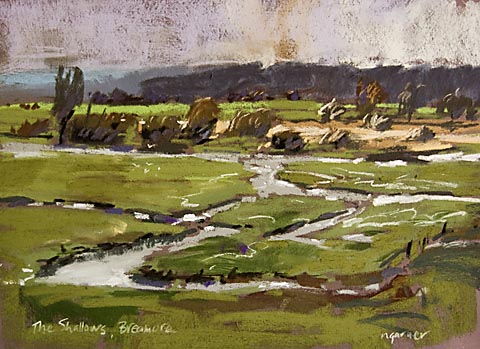 I stood on the top of an old railway bridge to look down on this landscape featuring the silted up mill pond of Breamore Mill in the UK New Forest National Park. I liked the way the mill stream now breaks up and meanders through the meadow.
I was going to prop up my box of pastels on the brick parapet of the bridge, but with a breeze blowing and the lid of the box open it would have been just been my luck if the box had blown off the bridge. The very thought put me off, so I put the box down on the grass and gave my back more exercise.
A lovely view in the early morning even though it was cold and mostly dull. The highlight was seeing a Kingfisher streaking along the stream as I walked back for breakfast.
Mostly done in an hour on location, I sharpened up the bright whites and adjusted the background trees back in the cottage.
Blog Archive
View All Blogs