The Cambridge Art Academy Blog: Pastel painting in the lambing shed | View All Blogs | Back
Pastel painting in the lambing shed
Posted On: Tuesday 2nd April 2013
Summary: This is a plein air pastel painting done in a lambing shed on a farm in Wiltshire

Blog Tags: Pastels painting Painting animals Quick painting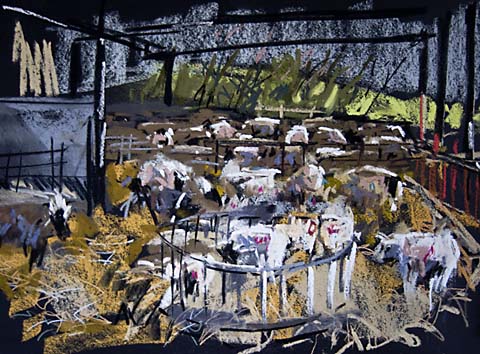 This is the second painting in pastels done recently on a Wiltshire farm in the middle of the lambing season. Cold weather has meant that most of the sheep are being kept under cover - the result appears to my inexpert eye to be chaos. Pretty difficult to paint as well since lots of sheep and their lambs were moving about and lambs jumping up and down and climibing wherever they can get to.
In the circumstances this was the best I could do. Many thanks to the farmer for letting me in the shed.
13"x19" soft pastels on pastel paper.
Blog Archive
View All Blogs