The Cambridge Art Academy Blog: Pastel painting in a cowshed | View All Blogs | Back
Pastel painting in a cowshed
Posted On: Sunday 31st March 2013
Summary: In which Noel Garner comes close to being run over by a cow but manages to do a quick pastel sketch.

Blog Tags: Sketching Outdoor painting Pastels painting Painting animals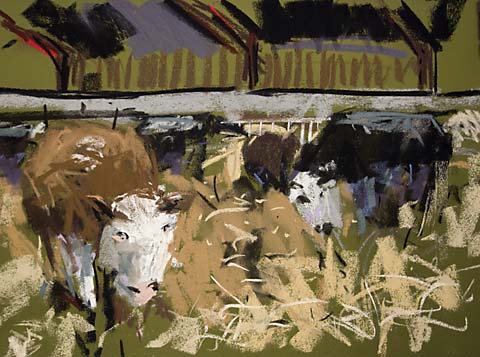 I did this pastel in a cow shed on a local farm next door to my sister's house on the outskirts of Bath. I don't necessarily recommend actually painting cows close up - unless you're Corry Kooy in which case cows are your close friends and painting models! Once cows have got used to you (i.e. after about 90 seconds), they are inquisitive creatures and lumber over to you to get a closer look at what's going on.
I managed to avoid getting a hoof planted in my precious box of pastels lying in the hay next to me, but a wet pink nose pushing on my painting hand is something of a distraction. So, tip number one for cow painting is to stand outside the fence and (if you're Dutch) keep a handy dike between you and the cows.
Don't say you learn nothing from Cambridge Art Academy!
13"x19" pastel paper, soft pastels and soft cow nose.
Blog Archive
View All Blogs