The Cambridge Art Academy Blog: Green Park Railway Station, Bath, UK, in pastels | View All Blogs | Back
Green Park Railway Station, Bath, UK, in pastels
Posted On: Saturday 30th March 2013
Summary: On a cold and rainy day it was good to be under cover and I painted this bustling market scene in pastels in the old Green Park Station in Bath

Blog Tags: Outdoor painting Plein air Pastels painting Townscapes People Buildings Painting interiors Industrial buildings People in paintings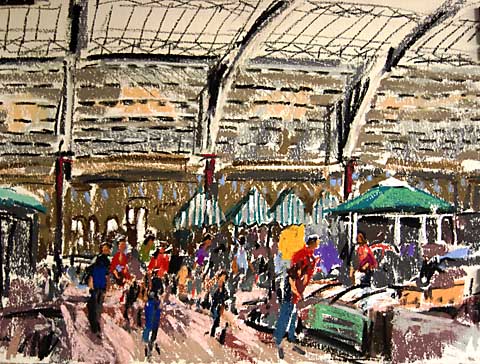 This was painted on the same morning as the
previous post
. The weather was very uninviting and cold as well, so the market in the former Green Park railway station in Bath was a safe place to head for. I was with my good friend Marco Cazzulini, and while I worked in pastels, he was sketching with a black brushpen. His command of a difficult perspective was spot on.
Lots of colour and movement here, and with light only coming from directly above through the station roof, the ground was pale and lighter than everything else since the light was striking it at right angles. Always important to remember that all things being equal. the ground is the lightest thing next to the sky.
The railway line from here ran on an embankment right at the end of the garden of the first house Judy and I bought when we got married in Bath, and our next door neighbour was the last station master of Green Park before it closed. All that is left now is the terminal station shed.
132x19" on pastel paper
Blog Archive
View All Blogs