The Cambridge Art Academy Blog: A painting of Salisbury Cross by Noel Garner re-appears after 30 years | View All Blogs | Back
A painting of Salisbury Cross by Noel Garner re-appears after 30 years
Posted On: Saturday 16th March 2013
Summary: An early watercolour of Salisbury Cross turned up recently and the new owner decided to let Noel Garner know about it

Blog Tags: Watercolor Outdoor painting Plein air Buildings Cambridge Art Academy People in paintings Watercolor painting Street scene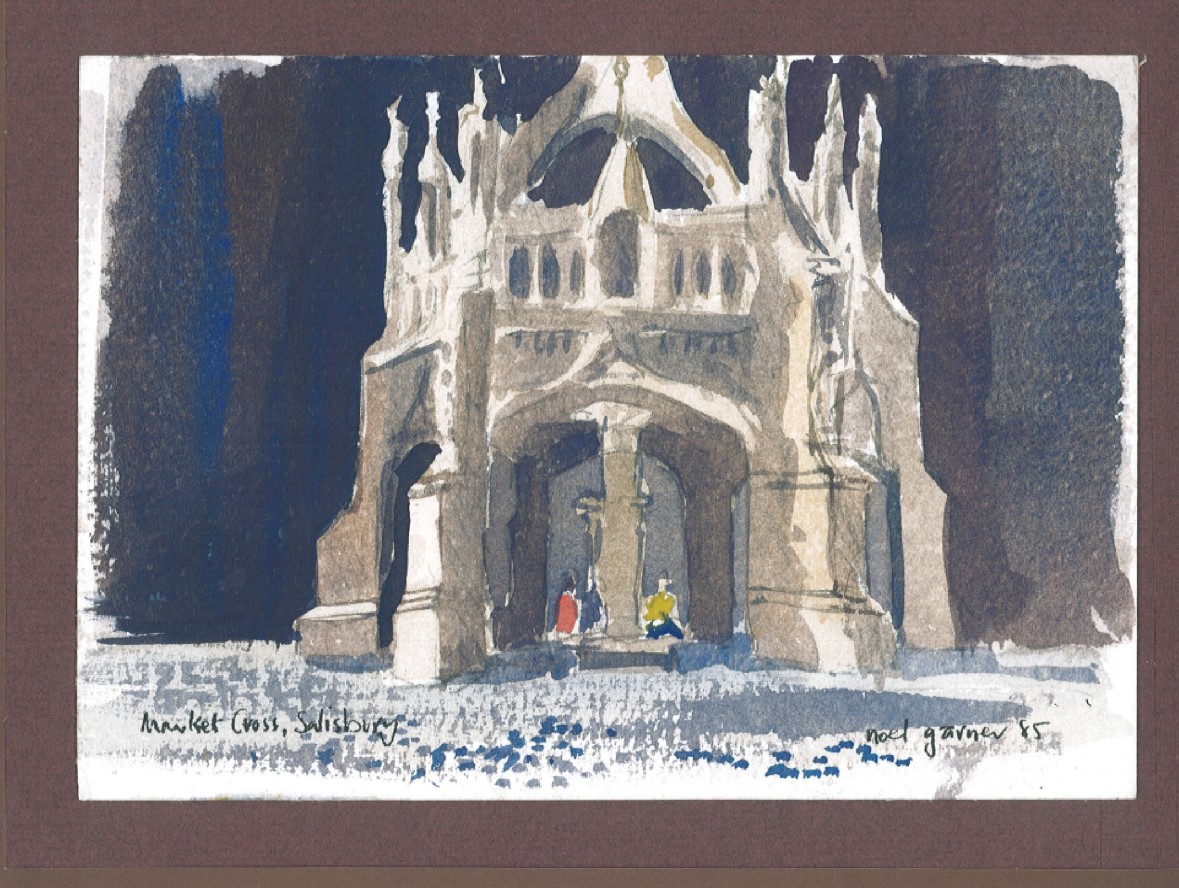 I was pleasantly surprised when I got an e-mail from someone who had just bought this little watercolour of mine from a second-hand book shop a couple of weeks ago. As you can see, I painted it plein air in 1985 - one year after I had taken up painting. In those days I painted only in watercolours.
By the look of it I may have sketched the outlines of Salisbury Market Cross in pencil on rough watercolour paper before laying in several washes in neutral greys, letting each one dry in turn. I would have put in the dark background at the end (I never use masking fluid - I hate the stuff!) and then dragged over the foreground with the side of my brush to reproduce the effect of what looks like cobbles.
Now and again one of my older paintings turns up like this and it's such a nice surprise to think that someone loves them, and puts them on their walls. This lady says she has re-framed it and - I quote -
"Here we are, Noel - hope it rings some bells; although I've seen that you have quite an oeuvre. It's a little Orwellian how much crops up following the smallest internet query isn't it? Think your Hammersmith Bridge is wonderful – an old stamping ground of mine, and I'm convinced, the loveliest London bridge – David Gentlemen did some super drawings I remember. Wishing you the best in all your endeavours. And thank you for speedy response, I'm grinning!"
Blog Archive
View All Blogs