The Cambridge Art Academy Blog: Pastel painting plein air by the river Cam | View All Blogs | Back
Pastel painting plein air by the river Cam
Posted On: Saturday 9th March 2013
Summary: A late summer afternoon pastel painting on the banks of the river Cam near Cambridge, painting plein air

Blog Tags: Landscape painting Boats Outdoor painting Plein air Painting in London Pastels painting Painting rivers Painting trees Painting water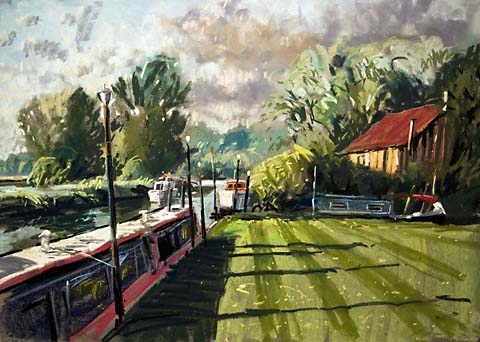 I started painting this in soft pastels plein air in October last year, and it is one of those which sit their patiently waiting for me to finish them off.
And today I did just that.
It's on afull size sheet, about 70cm x 45cm. I spent a long time doing the detail, and looking at the general composition through a mirror to assess which parts were out of balance.
Blog Archive
View All Blogs