The Cambridge Art Academy Blog: Sketch in oils under Carrow Road Bridge, Norwich, UK | View All Blogs | Back
Sketch in oils under Carrow Road Bridge, Norwich, UK
Posted On: Monday 11th February 2013
Summary: In bitingly cold weather I stood by the R. Wensum in Norwich under the Carrow Road bridge to sketch in oils

Blog Tags: Landscape painting Oil painting Outdoor painting Pochade painting Plein air Townscapes Buildings Reflections in water Painting rivers Industrial buildings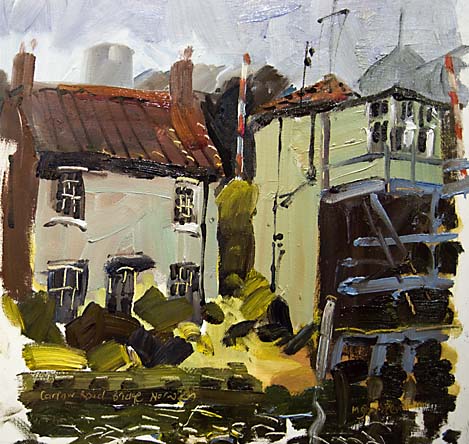 I painted this with my pochade oils box this afternoon in Norwich on my way home to Cambridge. Putting painting aside for one moment, this location has significance on two counts because within 200m of where I was standing are:
1. The original factory of the world famouse Colman's English mustard.
2. The "Canaries" (Norwich City Football Club) football stadium, owned by
3. The world famous TV cook Delia Smith.
Back to painting. I haven't touched my oils for months - I've been abosrbed with pastels for a long time now. But this seemed a good day to get the pochade box out for no particular reason. Very cold - I was painting with gloves on and I gave myself a bit more than half an hour to do this. Left my turps in the car, wasn't going back for it either, so I used medium (50/50 linseed oil and turps) and used all the brushes I had in my box rather than trying to clean each one. 9"x9" oil on gessoed plywood.
Blog Archive
View All Blogs