The Cambridge Art Academy Blog: Tricase Porto, Puglia painted in pastels | View All Blogs | Back
Tricase Porto, Puglia painted in pastels
Posted On: Saturday 26th January 2013
Summary: A plein air painting in pastels done late in the afternoon on the eastern tip of the "heel" of Italy. An interesting zig-zag composition.

Blog Tags: Boats Plein air Pastels painting Buildings Reflections in water Composition Painting in Italy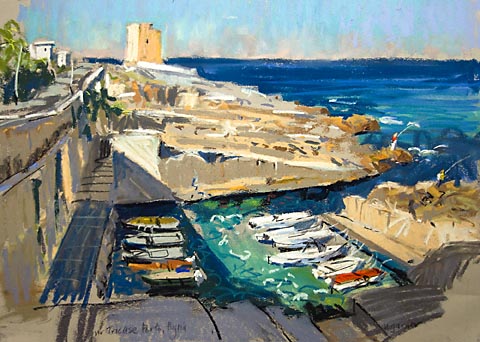 Back to the sunny south of Italy. This is another pastel I didn't quite finish in the summer of 2012 when I painted it on location near Tricase Porto, Puglia, Italy. It was late afternoon and the scene was bathed in warm clear light.
I rather liked the zig-zag composition inherent in the scene, with the straight lines of shadows,harbour wall, coastline and horizon all leading towards the full-stop of the watchtower in the distance. Then, the eye follows the road on the left back to the foreground.
I simply adjusted some shadow hues that weren't very convincing (too warm) and spotted in some highlights here and there.
Blog Archive
View All Blogs