The Cambridge Art Academy Blog: View over Porto Badisco, Puglia, Italy, painted in pastels | View All Blogs | Back
View over Porto Badisco, Puglia, Italy, painted in pastels
Posted On: Tuesday 22nd January 2013
Summary: This view is from the watchtower on the hill above Porto Badisco in Pulgia, Italy, painted in pastels on a clear and breezy morning

Blog Tags: Landscape painting Outdoor painting Plein air Pastels painting Quick painting Painting in Italy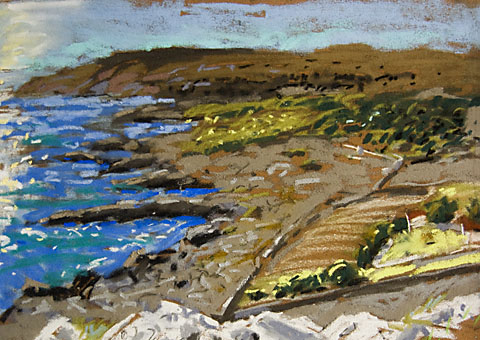 This is another attempt to think about sunnier times while we freeze here in the UK. Well, we think it's cold anyway. This brings back happy memories of summer 2012 in Puglia, southern Italy. It was warm, balmy, and breezy.
I was sitting in the shadow of the watchtower that overlooks the coast in the area around Porto Badisco. You can see a bit of the white limestone in the foreground, and the rocky, stained limestone in the middle distance forms a rugged and dramatic shoreline.
I painted nearly all of this plein air, and put in a few highlights and colour notes in the studio yesterday.
8"x12" on sanded-finish pastel paper.
Blog Archive
View All Blogs