The Cambridge Art Academy Blog: Last light at the Nature Reserve, in pastels | View All Blogs | Back
Last light at the Nature Reserve, in pastels
Posted On: Tuesday 1st January 2013
Summary: A pastels sketch done this afternoon as the light was fading at the RSPB (Royal Society for the Protection of Birds) HQ at Sandy Lodge in Bedfordshire

Blog Tags: Landscape painting Sketching Outdoor painting Plein air Pastels painting Nocturne painting Birds Abstract art Painting trees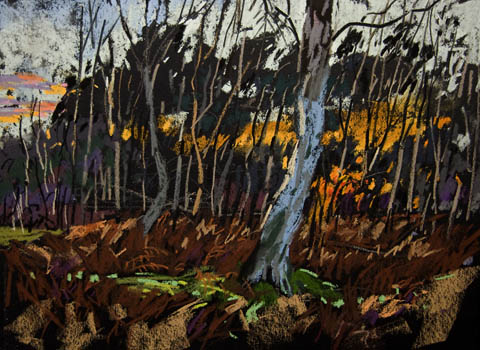 I guess there is quite a bit of abstraction here if you compare the image here with the photograph I took at the same time. Perhaps using black paper - which I don't often use - jolted my usual framework for seeing things and resulted in something a bit different. Over the space of 45 minutes the sky went from tinted pink to a deep orange towards the horizon, and I adapted accordingly towards the end. The shadows, too, took on shades of purple and grey-blue which I noted in at the same time.
I started off with hard pastels and used soft Sennelier and Schminke for the sky colours. The most interesting part was the counterpoint of the tree trunks and branches against the varying pale and dark background and I freely adjusted their values to stand out from the background, adding to the illustrative look.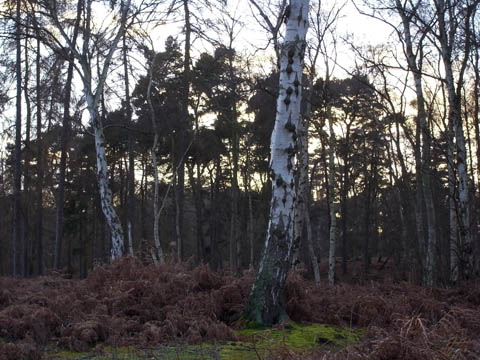 I enjoyed this, but my hands were cold by the time I had finished. Last thing to do was a light spray of fixative which noticeably darkened the overall value of the sketch on black paper. By the time I had returned to the car it had fully dried out and almost regained the original colour strength except for the foreground browns which stayed darker - so I re-stated some of these back in the studio this evening and left them unfixed. On the whole I spray lightly and don't have a difficulty with darkening, but you have to keep a look out for how different pigments react on different surfaces.
Blog Archive
View All Blogs