The Cambridge Art Academy Blog: Abbey Mill Tewkesbury, a sketch in oils | View All Blogs | Back
Abbey Mill Tewkesbury, a sketch in oils
Posted On: Friday 16th November 2012
Summary: A famous view in Tewkesbury, Gloucestershire, UK with Abbey Mill in the foreground and the Abbey in the background. A small oil sketch on board

Blog Tags: Landscape painting Oil painting Boats Outdoor painting Pochade painting Plein air Townscapes Windmills and mills Buildings Industrial buildings Painting water Street scene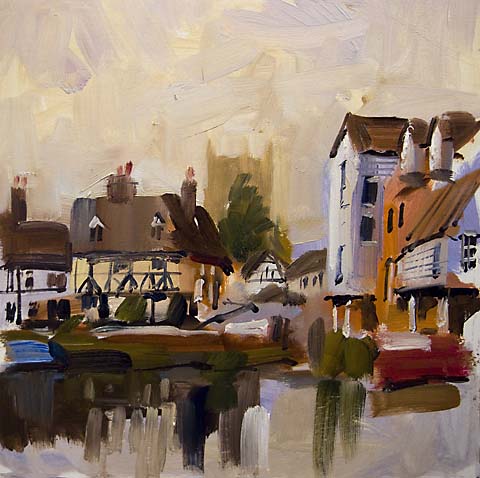 A couple of years ago there was severe flooding here. The Abbey was left dry on a small island of its own. A visit to Tewkesbury Abbey is a must. If you live anywhere else in the world and you are visiting the UK, you must visit this town and this Abbey. It has an amazing history, and the interior is the absolute best of Norman architecture.
Abbey Mill is on the right in this small oil sketch on board, Swilgate in the foreground and the abbey fading into the autumn mist, with the sun trying to break through.
Judy and I were staying in an 18th century weaver's cottage just behind the cottage on the river bank. We had several days here so the next few posts are all from here.
Blog Archive
View All Blogs