The Cambridge Art Academy Blog: Piazza del Populo, Copertino, Puglia, Italy painted in pastels | View All Blogs | Back
Piazza del Populo, Copertino, Puglia, Italy painted in pastels
Posted On: Monday 29th October 2012
Summary: A typical Puglian town, not visited by tourists so it seems. But this piazzo made a wonderful architectural subject for a study in pastels

Blog Tags: Outdoor painting Plein air Pastels painting Townscapes People Buildings People in paintings Street scene Painting in Italy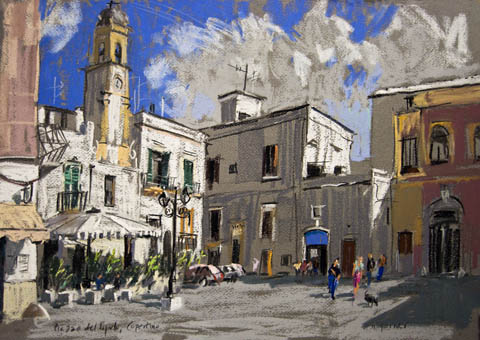 I painted most of this in pastels (13"x19") on the spot in Copertino, a small Puglian town in Italy. Not many tourists come here I suspect. One of the locals said to me in a not unfriendly way, "Why have you come here" as if to suggest that there must be a thousand more interesting places to visit. When I said "because your town is beautiful to paint" he beamed with pride.
The owner of the shop just off the picture to the left abandoned the shop to watch and talk and bring out his sketches to show me. Just as we were going he presented Judy with a large bag of fresh fruit, (the best peaches I have ever tasted by the way) announcing that I had inspired him to paint again. I just love that sort of thing.
The pastel painted itself more or less. When everything is perfectly placed in front of your eyes, how can you fail? The best thing to do is paint what you see as best you can. The architecture reminds me of the kind of "Grand Tour" watercolours that Richard Parkes Bonington would do in the 1860s, like this one of Verona. What a staggeringly good draughtsman he was!
Blog Archive
View All Blogs