The Cambridge Art Academy Blog: Salome and the head of John the Baptist, in pastels | View All Blogs | Back
Salome and the head of John the Baptist, in pastels
Posted On: Sunday 28th October 2012
Summary: a small pastel done during a performance of Salome at the Royal Opera House

Blog Tags: Painting in London Pastels painting People People in paintings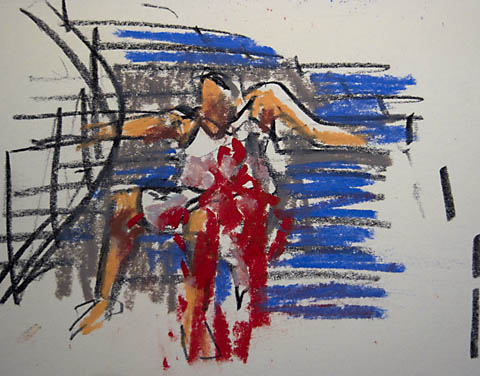 I've got more to show from Italy and Tewkesbury, but just in case your'e falling asleep, this is a small pastel done several months ago during a performance of Strauss's opera, "Salome".
Salome here is sitting on the steps onstage with the severed head of John the Baptist in her lap. Lots of artificial blood everywhere including on her as the soprano belts out a sort of belated love song in German.
I must sound a Philistine when it comes to music, but actually it was a rather powerful drama exploring the themes of sex, power and religion. It doesn't stick strictly to the story in the Bible, but nonetheless, is a rather interesting take from the pen of Oscar Wilde.
My cousin plays in the ROH "band" BTW.
Back to calmer waters tomorrow.
Blog Archive
View All Blogs