The Cambridge Art Academy Blog: Piazza del Duomo, Lecce, Italy, painted in pastels | View All Blogs | Back
Piazza del Duomo, Lecce, Italy, painted in pastels
Posted On: Friday 26th October 2012
Summary: A small simple painting in soft pastels done plein air while sitting on the steps of the Duomo and eating ice cream

Blog Tags: Outdoor painting Plein air Pastels painting Townscapes People Buildings People in paintings Quick painting Street scene Painting in Italy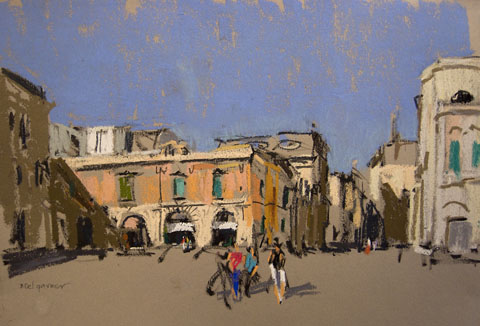 I'm a bit out of of chronological order here. This pastel (12"x9") of the Piazza del Duomo in the centre of Lecce, was in fact the first thing I did when we arrived in Lecce. I kept telling myself to keep it simple, and indeed it is. I had with me a piece of pastel paper the colour of which almost matched the colour of the pavings, so I left it completely untouched by pastel. Just the figures and their shadows and I think it works well. That and the colours. But the colours of Italian historic towns are gorgeous anyway.
As I worked away at my picture sitting on the steps of the Duomo, a waiter bearing a silver tray appeared from the cafe with the white shades, came right over to me and presented a lovely ice cream in a bowl and said in pretty good English "Your wife asked me to bring this to you." Now that's what I call service!
The group of people in the foreground were not just standing there of course. They sat on the same steps where I was - I noted the jolly palette of their clothing without looking too hard at them - and then imagined them as they had walked across the Piazza.
I should also point out that the building in shadow on the left is ligher than the shadow it is casting on the facing wall because light is reflecing back onto the building from the pale surface of the square.
Blog Archive
View All Blogs