The Cambridge Art Academy Blog: A quiet piazza in Lecce, Puglia, Italy, painted wih pastels | View All Blogs | Back
A quiet piazza in Lecce, Puglia, Italy, painted wih pastels
Posted On: Thursday 18th October 2012
Summary: A small plein air painting in pastels of a quiet piazza in Lecce, Puglia, Italy.

Blog Tags: Outdoor painting Plein air Pastels painting Townscapes Buildings Abstract art Composition Street scene Painting in Italy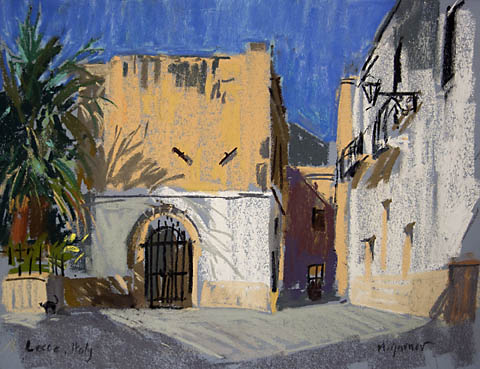 There's something slightly abstract about this pastels painting done in a quiet corner of a piazza in Lecce, Puglia, Italy.There has to be something about every subject that inspires you to paint. In yesterday's blog it was all about the warm colours and the details of baroque buildings in a dramatic street scene.
This subject was equally interesting to me but for very different reasons. There is less receeding perspective, and the surfaces themselves are plain and unadorned. This is not one of the dramatic civic street scenes, but rather a more humble, artisan, residential area. I believe it is part of the old Jewish quarter. There's something North African, or Greek about it - which is no surprise since both those areas are not distant from Puglia. From a painting viewpoint it's all about simple colours and interlocking shapes.
And of course a cat. And yes, there was one hanging about.
Blog Archive
View All Blogs